6×4 Euro V Tractor Unit (Genlyon), LNG Truck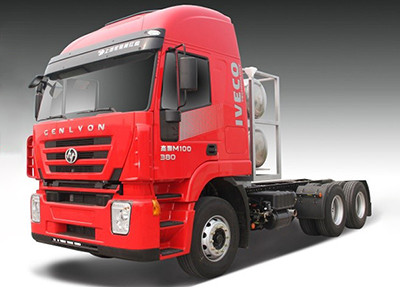 Consulting Products Information
Our tractor unit introduces the European advanced technology of truck. In respect of its particular and attractive appearance, continuous reliability and high security in consistency with European standard, it leads the truck industry of China to move on a new stage. This product is configured with the exclusive axle, chassis and cab painting, durable frame and it makes the drivers comfortable and joyful, becoming the optimal choice of users.
Technical Parameters
Model
Driving type
6x4
Emission standard
Euro 5
Vehicle kerb mass (kg)
9680
Gross vehicle weight (kg)
25000
Maximum speed (km/h)
90
Wheelbase (mm)
3850+1400
Driver's cabin
High roof cab with twin sleeper
Exterior dimension (mm)
L
7435
W
2500
H
3720
Engine
Model
SC10ET380Q6
Horsepower (hp)
380
Emission (L)
10.42L
Torque (Nm)
1750
Gearbox
FAST 10 gears
Front axle
6.5T
Drive axle
HY469
Tyre
12R22.5
Truck frame(mm)
Single truck frame
LNG tank (L)
1000
Options
Driver's cabin
Flat roof cab with one sleeper
Engine
SC12ET400Q6, SC12ET440Q6
Gearbox
FAST 12 gears
Front axle
5.5T, 7.5T
Drive axle
435, 457
Tyre
315/80R22.5, 295/80R22.5
LNG tank (L)
500, 750, 1350
*The right-hand drive truck model is optional.
The above parameters are only a reference. Please contact with us for specific configurations.