8×4 Euro V Dump Truck (Genlyon)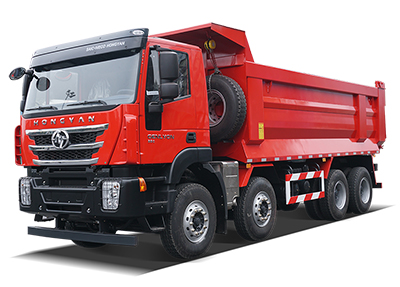 Consulting Products Information
Our dump truck incorporates advanced IVECO's European design and technology. It makes truck industry of China step into a new realm based on its cabin in European style, exclusive axle, distinguished vehicle painting and overall reliability. Variable designs of cargo body can be selected in consistence with the complicated road conditions. With continuous concern about the quality of product and service, the vehicle has been always the optimal choice of discriminating drivers.
Technical Parameters
Model
Driving type
8x4
Emission standard
Euro 5
Vehicle kerb mass (kg)
14850
15500
Gross vehicle weight (kg)
31000
31000
Maximum speed (km/h)
80
80
Wheelbase (mm)
1800+3000+1400
1800+3300+1400
Driver's cabin
Flat roof cab with one sleeper
Flat roof cab with one sleeper
Exterior dimension (mm)
L
8585
8885
W
2500
2500
H
3090
3090
Engine
Model
SFHC9 350
SFHC9 390
Horsepower (hp)
350
390
Emission (L)
8.71
8.71
Torque (Nm)
1500
1590
Gearbox
FAST 12 gears
FAST 12 gears
Front axle
7.5T
7.5T
Drive axle
HY320
HY320
Tyre
12.00R20
12.00R20
Truck frame(mm)
Double truck frame
Double truck frame
Fuel tank(L)
400
400
Options
Wheelbase
1800+2700+1400
Engine
SFHC11 430, SFHC13 480
Front axle
9.5T
Tyre
11.00R20, 315/80R22.5
Fuel tank
280
*The right-hand drive truck model is optional.
The above parameters are only a reference. Please contact with us for specific configurations.