4×2 Euro III Cargo Truck (Kingkan)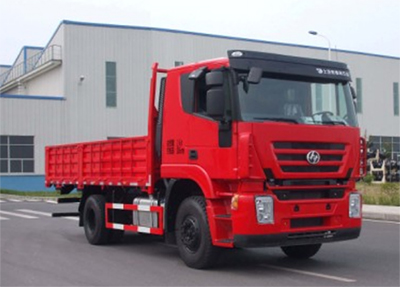 Consulting Products Information
We are a reliable cargo truck manufacturer in China. With engine options up to 360hp, our Hongyan XinDaKang cargo trucks are ready to get the hard work done. As they are energy efficient and fully in accordance with Euro II emission standards, our cargo trucks are energy saving and environmentally friendly. High-strength frame, 13, 16-Ton driving axles and solid chassis all combine to ensure the high carrying capacity of our trucks. Besides, our cargo trucks adopt spacious Hongyan HY2003 full floating cab, to provide the driver with maximum comfort. Moreover, four independent braking systems are used to ensure the safety of our cargo trucks.
Technical Parameters
Model
Driving type
4x2
Emission standard
Euro 3
Vehicle kerb mass (kg)
7870
Gross vehicle weight (kg)
18000
Maximum speed (km/h)
80
Wheelbase (mm)
4600
Driver's cabin
Flat roof cab with one narrow sleeper
Exterior dimension (mm)
L
8525
W
2500
H
3201
Engine
Model
WeichaiWP10.290E32
Horsepower (hp)
290
Emission (L)
9.72
Torque (Nm)
1160
Gearbox
FAST 10 gears
Front axle
5.5T
Drive axle
457
Tyre
11.00 R20
Truck frame
Single truck frame
Fuel tank(L)
400
Options
Driver's cabin
High roof cab with twin sleeper, flat roof cab with one sleeper
Engine
WeichaiWP10.340E32
Gearbox
FAST 12 gears
Front axle
7.5T
Drive axle
HY485
Tyre
12.00R20, 295/80R22.5
Truck frame
Double truck frame
Fuel tank (L)
280, 350
*The right-hand drive truck model is optional.
The above parameters are only a reference. Please contact with us for specific configurations.